By Vivian Arend
Cool Canucks, Hot Contemporaries Blog Tour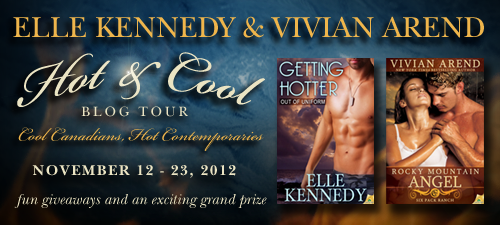 November 12-23, 2012, join Elle Kennedy and Vivian Arend as we share information about our upcoming Samhain releases- Viv's ROCKY MOUNTAIN ANGEL (Six Pack Ranch #4) and GETTING HOTTER (Out Of Uniform #8)
What's it about?
Well, how about we BOTH tell you?
Elle: Can we PLEASE talk about how we "met"?
Viv: lmao. Way to start off topic. You really want people to know? You stalker
Elle: lol. Not the details! Just that I emailed you because you were Canadian and I thought we would hit it off. And we did.
Viv: I'm looking at my Samhain bookshelf…
Elle: Is that code for something?
Viv: You were one of the first Samhain authors I read. Out of Uniform…
Elle: Wow! Really? That's pretty awesome. You can thank being Canadian as why I read Rocky Mountain Heat.I was browsing for books with Canadian settings because my friend commented about how hardly any novels use them
Viv: too funny. And almost all my books are Canadian set
Elle: Your name came up a lot 🙂
Viv: Well…there's so much Canada to USE as a setting 😀
Elle: I know. The series I'm plotting out now is set in Canada. FINALLY!
Viv: Yeah!!!! *digresses into Barenaked Ladies songs* We've got…rocks and trees and trees and rocks and…
Elle: and snow and lakes!
Viv: okay, so for the next couple weeks we're going to share snippets from Getting Hotter and Rocky Mountain Angel, and tease people
Elle: and showcase our awesomely Canadian sense of humour
Viv: right. we get to ramble…like that's hard…
Elle: Notice I used the "u" in humour?
Viv: lol. very colourful addition. Do you think we need to explain the use of Duct Tape?
Elle: OK, I'm dumb. Do Americans not use duct tape? (this is a serious question)
Viv: They seem to call it DUCK tape
Elle: DUCK?
Viv: and I doubt they know of its utter importance in our lives
Elle: Honestly? If I had to pick three items like desert island style or whatever, duct tape would be one of them
Viv: that's because you're a kinky girl. OFF TO THE PRIZE LIST!
HOT & COOL PRIZES!
GRAND PRIZE:? Nook (wifi)
SECOND PRIZES:
#1- Cowboy Gift Pack (No, no real cowboys-sorry) 100th anniversary Calgary Stampede bag and cowbell. Paul Brandt CD, Print copy of ROCKY MOUNTAIN HEAT
#2- A Navy Seal gift pack. (No, still no real Seals included– but keep dreaming!) Print copy of HOT & BOTHERED (OOU #1-3), and a bunch of fun stuff you really want to win.
Winners for these drawn from comments at all the tour stops, and announced at our blogs November 23.
~~><~~
DAILY PRIZES: One commenter at each blog will win their choice of one of Elle or Viv's backlist Samhain ebooks.
~~><~~
HOT & COOL TOUR!
Nov 13- The Book Pushers
Nov 14- Smexy Books
Nov 15- Hanging with Bells
Nov 16- Heroes & Heartbreakers
Nov 19- Fiction Vixen
Nov 20- Novel Thoughts
Nov 21- Ramblings From This Chick
Nov 22- Book Binge
~~><~~
HOT & COOL Rules:
1. International winners are welcome. Prizes are as listed, no substitutes.
2. Chances of winning depends on the number of entries at each blog. Winners for the 3 main prizes will be chosen using Random.com.
3. No complaining about how hot the excerpts are. 😀
~~><~~
The COOL CANUCKS, HOT CONTEMPORARIES TOUR is brought to you by two writers who are good friends in spite of their extreme opposite lives: big city/small town, west coast/ east coast, married/single.
GETTING HOTTER, book #8 in the Out of Uniform series by Elle Kennedy is available at: Amazon | Barnes & Noble | Samhain Publishing
New York Times and USA Today bestselling author Vivian Arend's ROCKY MOUNTAIN ANGEL (Six Pack Ranch #4) is available at: Amazon | Barnes & Noble | Samhain Publishing
~~><~~
Leave a comment for your chance to win!!! Do you call it DUCK tape or DUCT tape, and can you give us one unusual thing to do with it? (And join us tomorrow at The Book Pushers!)