By Vivian Arend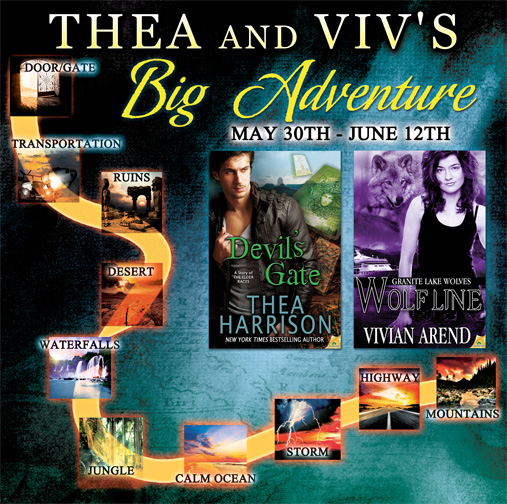 You know how sometimes things just happen? Well, this thing started a while back. I meet the lovely (and talented–she's a NYTimes and USA Today bestselling author!) Thea Harrison last year at the national Romance Writers conference in New York. That was Thing #1.
Since then, I've got to know her a little better. So when Thing #2 happened–both of us ending up with releases at Samhain Publishing in early June, it was fated…
…that Thing #3 would occur. Since we both love to travel, we've decided to have a BIG ADVENTURE together. We'll be traveling on a blog tour, sharing snippets from our stories and our other travels. Thea's June 5 release is DEVIL'S GATE, book 3.5 in the Elder Races world. And on June 12 my novella returns us to the Granite Lake Wolves with WOLF LINE.
I hope you will join us starting May 30th. Just stop by here at my blog, or at Thea's, and we'll have the details on the next place to go.
~~**~~
OH! For fun? If you want to post our cool banner at your website, or link via Facebook, or however you want to share, you definitely can! And if you come back here (to my main blog, please) and tell me you did? I'll draw a name from all the commenters for a signed print copy of winner's choice: Under the Northern Lights or Under the Midnight Sun. I'll wait until just before the tour starts to pull a winner for this.
(And I do mean however you share…I know not everyone has a blog or Facebook. If you tell someone about Thea's awesome book and my little wolfies–that counts, okay?)